---
History
History of St. Mark's
St. Mark's is and has always been the only Episcopal church in New Britain. In 1836 Episcopalians "lived in the unity of the spirit and the bonds of peace" More than 175 years later we respect diversity and inclusion which grace that unity of spirit in the present St. Mark's.

The first St. Mark's building on East Main St. was a plain and unchurchly building often assumed to be a house. It contained 24 pews. The first rector was the President of Trinity College, Hartford. We were then one of 90 Episcopal congregations in the Diocese of Connecticut and the 7th in Hartford County.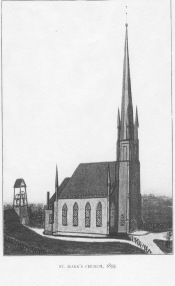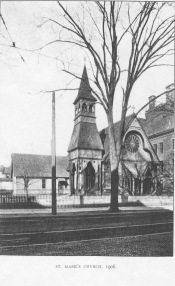 The second St. Mar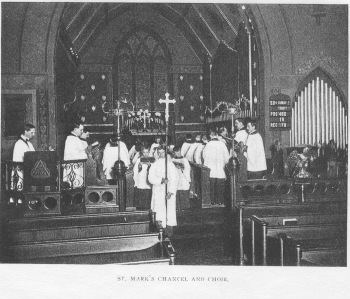 k's, on the corner of West Main and Washington Sts.,was built in 1848, contained 60 pews and had both a spire and a bell tower.
A wooden building, it was enlarged in 1859 by another 40 pews. In the 1880s, the spire was removed and the church substantially redecorated.
The third and present St. Mark's building at 147 West Main St. was built in 1921 and incorporates many of the 1885 decorations.
The three tower bells were melted into one now in our tower. The brass eagle lectern from 1884 holds Holy Scripture. The marble baptismal font at the entrance to the nave came from the second St. Mark's as did the stained glass windows in the chapel. Some of the other stained glass windows are from the studio of William Morris and are currently being restored.
The Parish House was built in 1958 for classrooms, choir room, gym and library. The Vance Memorial Courtyard, dedicated in 1960, was replanted as the St. Mark's Memorial Garden. That dedication and first internment happened in December 2006.

|

|

Share